We are proud to be the first certified Hahnemühle fine art digital printer in Georgia, a distinction bestowed only on print studios who have demonstrated an extremely high level of expertise in digital printing. In fact, there are only about two dozen certified studios in the USA. Hahnemühle FineArt has produced the world's finest mould-made, cotton rag art papers since 1564! We hope to meet every one of your needs and that you will be continually thrilled with the quality and accuracy of our work!
VIDEO: How Cotton Rag Fiber paper is made - CLICK HERE
Why Giclée?
Archival inkjet (Giclée)  printmaking has been perfected to a level of quality, permanence, and affordability that no other process can match. Visual artists worldwide have embraced this to be the most effective way to offer museum-quality reproductions to expand their market reach and collector base.  With longevity reaching 100+ years, giclée sets the standard by which all fine art and photographic printing is measured.
We appreciate the trust you place in us every time we handle your precious original art and strive to give your work the utmost attention. We know that our success depends entirely on your success and our relationship with our clients doesn't end with just scanning, printing and framing.
Digital Arts Studio is continually seeking new ideas and opportunities to share and it is this partnership that has opened many doors for aspiring photographers and artists nationwide and fueled our growth over these past 14+ years. Check out our blog, Instagram and FaceBook pages periodically for the latest inspirations!
Customer Review
I absolutely love Digital Arts Studio! I'm an artist who uses their services to make prints for my art shows and exhibitions. The work is impeccable quality and completed well before showtime. If they anticipate a possible issue, it is communicated along with alternative solutions. The staff is knowledgeable and friendly. It's like visiting friends when dropping off and picking up pieces. I highly recommend them for your printing and framing needs.
Canessa Thomas
UP CLOSE -  Detailed Samples of our Work!
We offer hand-applied 3-D texturizing to your canvas or paper prints. We can also "hand-tear" watercolor and Japanese papers to simulate deckled edges. Make your art prints unique!
Click on any of the thumbnails below to see a more detailed image.
State-of-the-Art Equipment
Digital Arts Studio is equipped with the latest, state-of-the-art image capture, color calibration tools, and wide-format archival printers, but it is our staff of dedicated and highly skilled imaging specialists who meticulously work to surpass your expectations.
Our team is comprised of trained artists, photographers, designers, musicians, etc. that are keenly aware of the special care and attention your work requires.  We acknowledge that  clients may have ongoing questions and need direction to effectively sell their work in todays global fine art print market.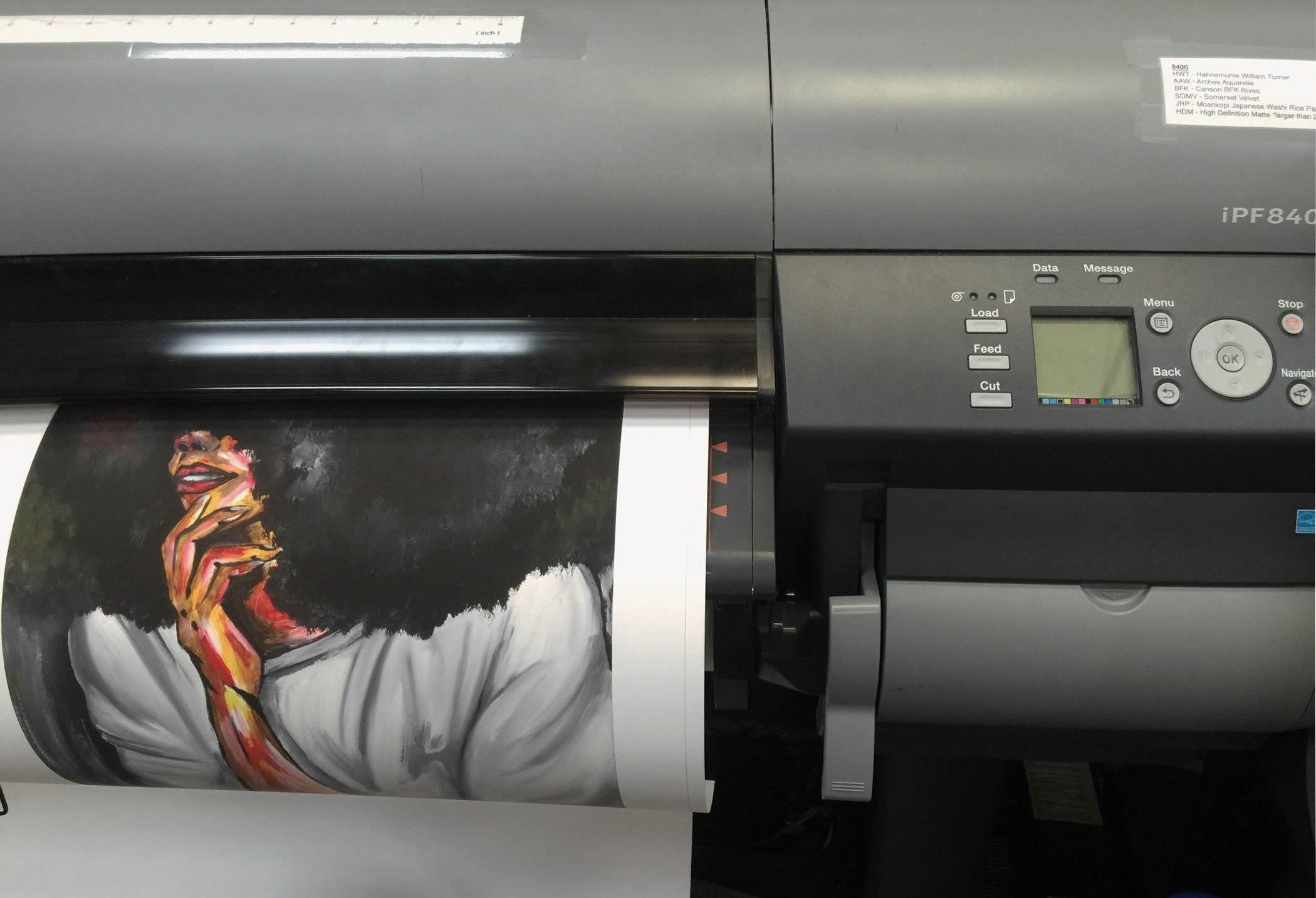 This is what WE do and are always working hard to provide excellent customer service and information. Please contact us via our toll-free telephone number 866-352-9779 or by email: info@digitalartsstudio.net.
Appointments to review files or to browse through samples in person are strongly suggested but you're always welcome to stop in during regular business hours. We are open to the public Monday through Saturday and always have plenty of samples in our gallery to see first hand.
We choose to offer the finest brand names of 100% cotton rag fiber papers, not low quality "acid-free", chemically treated papers. This way, you are always assured of consistent color and quality. Our canvas is Breathing Color's™ Chromata LYVE, superior quality, made in the USA ,and the only canvas to be certified archival by the Fine Art Trade Guild (UK) and free of artificial additive optical brightening agents.